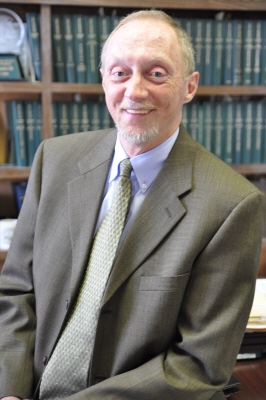 R
ob Barris, a longtime district attorney in McIntosh and Okmulgee Counties, has died.
Barris, 61, died Saturday.
Barris was a prosecutor for more than two decades.
He graduated from Okmulgee High School, and later earned degrees from the University of Oklahoma, where he went to law school.
He was first elected District Attorney in 2010, and was re-elected in 2014.
In 2015 he, along with Washington County District Attorney Kevin Buchanan, oversaw the grand jury that looked into alleged corruption at the Tulsa County Sheriff's Office. That grand jury ultimately indicted longtime sheriff Stanley Glanz, who resigned from office and later pleaded guilty and no contest to the charges brought against him.
In 2002, Barris' son Tyler died due to complications from a bone marrow transplant.
Tom Giulioli, who served as Okmulgee County district attorney prior to Barris, said that Barris was "one of the best trial attorneys I have ever seen."
"Together, we tried every type of case you could imagine from misdemeanors to death penalty murder cases," Giulioli said. "He was always impeccably prepared and willing to take on any case I assigned to him. Shortly after being elected for my first term as district attorney, I appointed Rob my first-assistant district attorney, and can say it was one of the best decisions I ever made. I could tell after a very brief time that someday he would make a fine district attorney. He was smart, honest, and tenacious in court, he faced adversity in court and in life with honor. I shall always be grateful to him for being my friend and law partner."
Tulsa County District Attorney Steve Kunzweiler said Barris was "one of the most humble and honest persons I have ever met."
"He was well respected among lawyers, and especially by his fellow prosecutors.  He never shied away from a challenge and he will be greatly missed by me."
Jack Thorp, District Attorney in Cherokee, Adair, Wagoner and Sequoyah Counties, said Barris was "an exceptionally kind of dedicated public servant."
"He was a friend and he will be missed terribly," Thorp said. "He was one of the most experienced prosecutors in the state and he dearly loved the cause of justice."
Services are set for 11 a.m. Thursday at Okmulgee's First Baptist Church.
Your financial support for our investigative journalism is now tax deductible. To become a Friend of The Frontier, click here.